Chaotic, corrupted, violent, biased in favour of the ruling party, not expected to cause any desirable political change at all. Seems that Sunday's elections in Sudan, first in 24 years, will not take this hapless country anywhere near democracy.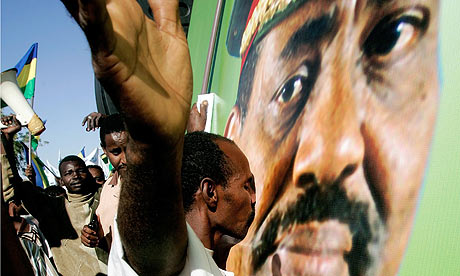 The situation is typical for the region – elections in Egypt, Algeria, Tunisia look alike – as well as for the world in general, where the number of democracies is substantially lower than countries having pools.
Only free, democratic elections are uni-vocally beneficiary to the people (let's skip the risk of electing bad government in place of a good one). The outcome of illiberal or stolen elections is dubious. Winning the voting has become a goal of wars and ethnic cleansing. Afghanistan deeply flawed presidential polls have eroded public confidence in the electoral process. In Zimbabwe, hundreds of people lost their lives and thousands suffered torture and intimidation when they tried to vote out their autocratic president. Manipulated elections serve to the dictators as a fig leaf and allow Western governments to deal with undemocratic regimes – especially if they are powerful as Russia, wealthy as Qatar or of key strategic position as Pakistan.
Still the United Nations has mounted a public relations campaign aimed at assuring that even a flawed election may be worth having. "We shouldn't look at this as a negative; we should look at this as a positive," said a senior U.N. official. According to Ibrahim Gambari, U.N. special representative, while the election may take place in an "imperfect environment" it would alter Sudan's political landscape for the better.
This is in line with the view of most democracy experts, who believe that flawed electons are better then none. Electioneering mobilizes the opposition, creates new leaders, put a country in the international spotlight. Despite the government's restrictions on opposition campaigning, the Sudanese had been able to speak openly about political matters for the first time in years.
Even flawed elections bring hope for a change. Sometimes it is visible only after a while. Look at Iraq. The voting last March again was far from democratic standards – but showed that the new political culture and new class of politicians, independent from Washington, are being born there. This is a chance for further normalization and development
Next autumn elections in Burma (Myanmar) are planned. They will be 100 % manipulated by the junta. However the International Crisis Group report says that "the [new] constitution and elections together will fundamentally change the political landscape in a way the government may not be able to control".
A couple of times in history stolen elections led to the fall of regimes, enough to mention F.Marcos in the Phillippines or recent people's revolutions in Georgia and Ukraine. With Sudan may be similar, though the odds are that Mr. Bashir will be reelected and relegitimised. Calmed this way, he might allow South Sudan to gain independence in the next year referendum. Or return to violence.
Would democracy help Sudan to get out of vicious cycle of poverty and violence? Not much doubt about it. Democracy and development are interconnected – plus there can not be any serious development without a peace. And the widely condemned regime of Mr. Bashir is a main obstacle, esspecialy to the development of southern part of the country (see chart below). Democracy is not a magic wand that change Sudan into Swiss, but would open the country more widely for aid, peacekeepers and investors.
Polish readers may read my full article on this issue here.
Pictures: guardian.co.uk, obamanialand.com, bbc.co.uk