Last night I came upon "Cultural Tips" at the website of DHL (world-wide mail service). This is a treasure-house of knowledge: dozens of countries in one-paragraph nutshells.
For example, what you need to know about Poland is that "coffee is in very short supply, so unless it is served, don't ask for it". Another key wisdom: "When a Pole flicks his finger against his neck, he is inviting you to join him for a drink of vodka".
If anyone of you, driven by compassion, rushed to the kitchen with an intention to send me a pack of coffee – please stop. Be sure we have plenty of coffee and if I deny you 7th cup it will be only out of concern about your health. Neither anybody here will invite you for a drink flicking a finger against his neck.
DHL tips are copied form popular guidebooks (the list of sources is provided). We can find out that "Peruvians are strong willed and nationalistic"; in Slovakia "visitors should not overly admire anything in the home since the item might be given to them, even if it is a family heirloom"; Swedes answer the phone by giving either their last name or phone number (hey, Daniel, do you answer by saying "43488577781"?); Albanians "often move their hands and heads when conversing" (anything unusual here?); in Iceland "it is considered bad form to discuss the weather" and, interestingly, "tipping is not allowed".
No word about Kazakhstan, but after all anyone can download "Borat".
***
Martina's post (worth reading, if you haven't yet) was an attempt to the deal with a problem of stereotyping in a scientific way. My, a country boy, attitude here will be somewhat different, I'd call it common sense. Let me question the need of fighting the stereotypes at any time and circumstances – the backlash caused by this holy war may do more harm than good.
Referring to God as he/she/it, as requested by radical Christian feminism, is a classic example, but I want to present another one, from my own yard.
You may know that 1939 Agatha Christie's novel "Ten Little Niggers" (a title based on old nursery rhyme) has been renamed in America to a mouthful "And Then There Were None" for reasons of political and ethnic sensitivity. In Poland we have similar controversy around a children poem titled "Bambo, the Little Negro", written 53 years ago by our famous poet Julian Tuwim. The poem was included in a spelling-book and virtually everyone from my generation knows it well.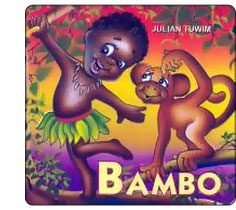 Bambo is a 10 year old African presented as studious, but after coming home he is mischievous. When his mom ask him to drink his milk, he climbs a tree, and when his mom asks him to take a bath, he is afraid he will turn white... All in all, to me Bambo seems cool dude.
You should be aware that a word "negro" (murzyn) has a neutral connotation in Polish. More: the poem was written with the intention of bringing dark-skinned people closer to kids' attention and understanding, in accordance with a communist egalitarian policy.
But today the Africans – at least some of them – feel stereotyped and offended. – You learn this from generation to generation. No surprise when Polish kid sees African on the street calls him "Negro Bambo!" – says Mamadou Diouf, Senegalese living in Poland for 20 years.
Now, many Poles were taken aback and angry by attacks on their childhood rhymes. – I am free from racism – says blogger Mlodamatka – in a sense that I don't feel the need to prove I am not racist. In our country law was not discriminatory to any skin color, like in US till the 60s. We don't have to apologize and change poem's title to "African Bambo".
***
I don't feel offended by DHL's "Cultural Tips" on Poland. I believe the author of this nonsense ridiculed nobody but himself. The company should alter the content for sake of its reputation, not my feelings.
But what if someone still feels offended by "Bambo"? Perhaps 20 years stay in a foreign country is not enough to fully understand some cultural nuances. Perhaps it is a matter of sensitivity... My common sense tells me to ignore such complaints, but my sensitiveness to cultural differences – not to.
I agree that Africans should not be pictured as scant-clothed banana eaters climbing the trees (but let's not deny them right to eat bananas and climb palms). Early education is an answer. Above mentioned Mamadou Diouf animated publication of a guidebook for teachers and parents "How to tell children about Africa" (I haven't found anything like this in English, please notify me if you do).
This is an excellent idea. Plant new trees, but don't cut old ones. The old poems, books and movies should be left in peace, as the evidence of the times.