Five months of buzz condenced to just one little blog post!? Or maybe just a video I couldn't help sharing plus a few other little gems.
#5 YouTube picks
The role forests can play in national development, a green economy and climate change explained:
Discrimination in Europe:
A visit to Liberian transit camps which are housing refugees fleeing violence in Côte d'Ivoire:
John Kaufmann answer the big question "are Americans facing reality". It's not a joke:
A picture speaks a thousand words and an animation of USAID cartograms... you just watch it and finish the sentence...
#4 Climate change cartoon
Clear communication and scientific understanding? Who is he kidding? Recently even The Guardian walked into the trap of The Berkeley Earth Project - apparently a denial lobbyist sponsored project to seed just a few more news stories insinuating that maybe, just maybe, climatologists aren't entirely right about global warming. The real tragedy, however, is that when the project fell with a whimper the media looked away.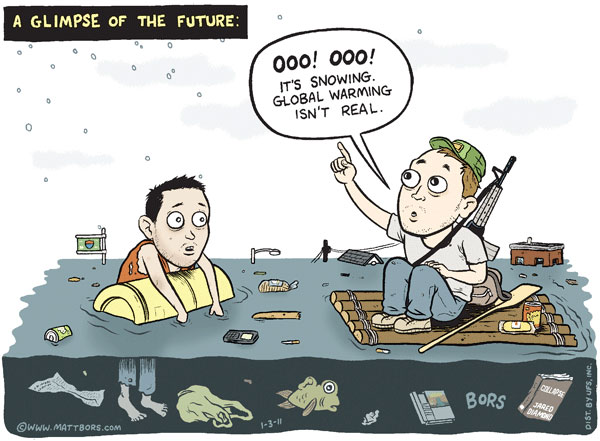 #3 Return of rare giraffes brings promise of peace among warring Kenyan peoples
"It has been 70 years since Rothschild giraffes (Giraffa camelopardalis rothschildi), aka Baringo giraffes, disappeared from the Lake Baringo area of Kenya that gave them one of their names. But now eight of these critically endangered animals have returned to the lake, and with them comes an unexpected bonus: a promise of peace." Read the rest at Scientific American.
#2 U.S. Military Developing Solar-Powered Tents
"Harnessing energy from the sun makes a lot of sense in hot desert environments, and the U.S. military has taken advantage of solar technology in the past by developing energy generating solar backpacks and watches for its troops in Afghanistan and Iraq. Recently the military announced its latest solar venture – a series of solar-powered tents that will be capable of powering communications devices as well as laptops and other electronic equipment, rendering ground units practically self-sufficient." Watch more images at Inhabitat.
#1 The video I couldn't help sharing
I have to admint I didn't know about Professor Kishore Mahbubani from Singapore [Wikipedia | website] but I liked his provocative (to a European) point of view on world affairs. Listen...