They're accused of it so often, it may as well be in their job description, but from where I'm standing, politicians need to be doing a whole lot more of it.
At present, water and sanitation are being severely overlooked by the world's decision-makers. The most basic of human rights - totally neglected by much of the developed world.
Why is water so important?
It's simple when you think about it; building a healthy, productive society when people have nowhere safe to go the toilet is nigh on impossible.
The reality:
Here in the west we use a hell of a lot of water, but rarely do we spend any time thinking about it. What would you do without water for one day? I suspect you'd really rather not entertain that thought. But the reality is that 1 in 8 people don't have access to it, that's 884 million, for whom life is made extremely difficult.
And it's not just water that people are deprived access to, it is sanitation too. This applies to 2.6 billion people, 40% of the world's population. Worse still is the shocking revelation that we are in fact regressing. The figure of 2.6 billion is higher than last year.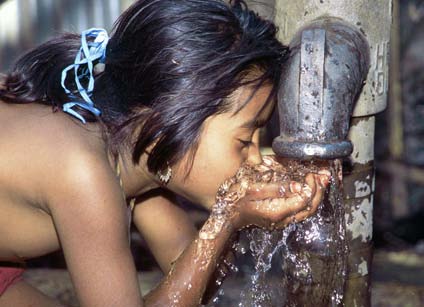 Why is the figure so incredibly high?
With the Millennium Development Goals in place, and more eyes than usual on the developing world, I couldn't fathom why the figure is so high, nor why it was going up. And so, with last Monday being World Water Day, and a number of questions weighing heavily on my mind, I went to WaterAid HQ to get some answers:
A forgotten right:
The absence of the right to water in the Universal Declaration of Human Rights is glaringly apparent. Though it exists in the Convention on the Rights of the Child and in the Convention for Women's Rights, the landmark document that is the UDHR continues to ignore both water and sanitation. 2002 saw an amendment to the UDHR, (by the UN Committee on Economic, Social and Cultural Rights), Kate told me, called general comment 15, which does recognize it as a right. There is no right to sanitation, which we have been arguing for, and the overall point remains… which is that water and sanitation always seem to get left behind or missed out.
For those who think that this is of little importance, think again. There is clear evidence that neglect on paper translates directly into neglect of diarrhoeal diseases when it comes to allocating funding. For example, in Madagascar, less than 0.1% of the population is infected with HIV and AIDS, and UNAIDS found there were too few deaths to estimate, whereas diarrhoeal diseases kill 14,000 children every year. Nevertheless, HIV and AIDS received five times more aid than sanitation over 2004-6.
What about the Millenium Development Goals?
As mentioned in the video, access to clean water and sanitation are inextricably linked to a number of the MDGs. You can't get very far with eradicating poverty, improving maternal health, preventing diseases or getting children educated without them. Despite their fundamental importance, it took decision-makers a long time to officially commit to dealing with the problem. It wasn't until 2001, quite late in the day, when pen was put to paper and target 10 of goal 7 of the MDGs was announced: Aim to halve by 2015 the proportion of people without sustainable access to safe drinking water and basic sanitation.
The lack of political will is not the only obstacle:
As if the scale of the problem weren't enough to contend with, the work of NGOs such as WaterAid is further undermined by the activities of Coca Cola, a company, which claims to adhere to the highest ethical standards and to be an outstanding corporate citizen in every community they serve. The accusations they face are more than a little hard to swallow: From dehydrating communities, violating its workers' rights, taking over aquifers worldwide, and exacerbating water shortages in regions which suffer from a lack of rainfall, its pursuit of water resources to feed its own plants is having impacting adversely on both farmers and local communities.
It's simple; access to safe water and sanitation is a basic human right. Moreover, they are the key to achieving many of the Millennium Development Goals. Just as Kate from WaterAid told me, we're talking about toilets and taps, it's hardly revolutionary. And so, the solution is a simple and straightforward one too.
For as long as it is ignored, sanitation will remain a dirty issue, literally. Politicians need to start talking sh*t, and they need to do it now.
More information, including last year's Fatal Neglect report can be found here.
This was cross-posted on my website.